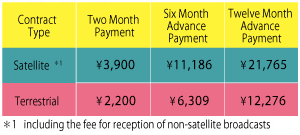 Television Receiving Fee
(including the fee for reception of non-satellite broadcasts)
Legal Basis for the Broadcast Receiving Contract
Article 64 of the Broadcast Law
(Receiving Contract and Receiving Fee)
ARTICLE 64. Any person who has installed receiving equipment
capable of receiving the broadcasting provided by NHK shall conclude a
contract with NHK with regard to the reception of its broadcasting.
However, this shall not apply to those who have installed receiving
equipment not intended for the reception of broadcasting, or receiving
equipment solely for the reception of radio broadcasting or multiplex
broadcasting (broadcasting of voice and other sound transmissions not
coming under television broadcasting and multiplex broadcasting
classifications; the same shall apply to Article 126 paragraph 1).